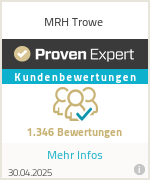 Concepts & solutions with vision
We are an internationally active, owner-managed company. With more than 400 employees, we are one of the top 10 industrial brokers in Germany. We started as a family business, today we work nationwide at over 13 different locations and across borders in international networks. Our regionally oriented support structure enables us to meet diverse and complex market demands with the highest level of competence.
True to the motto "personal – independent – competent", we focus on developing individual and sustainable insurance solutions and consulting concepts. As an independent financial services provider, we are a qualified and reliable partner for clients, as well as cooperating companies.
In particular, we focus on concept development of solutions that are tailored to the needs of defined target groups. Under one roof we unite all operative specialized consulting companies in the following business segments:
Insurance brokers for corporate, real estate, financial lines, M&A business solutions, architects & engineers and commercial & private clients. At Benefits & Pensions we develop conceptual solutions for group and private pension schemes for employees and management. In the area of finance, we focus on the areas of receivables management, liquidity optimisation, financing, credit management and information. In risk management / consulting, we act as specialized corporate consultants and are licensed as insurance advisors.
The MRH Trowe service